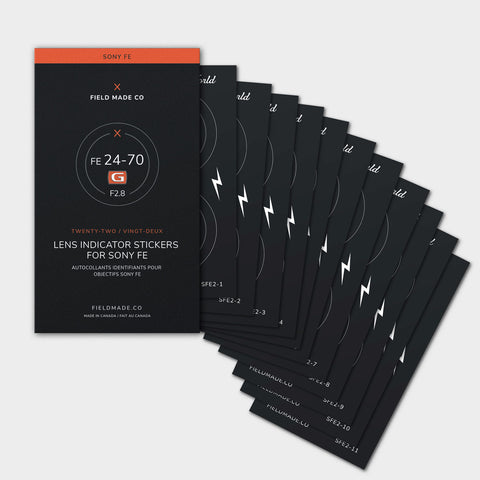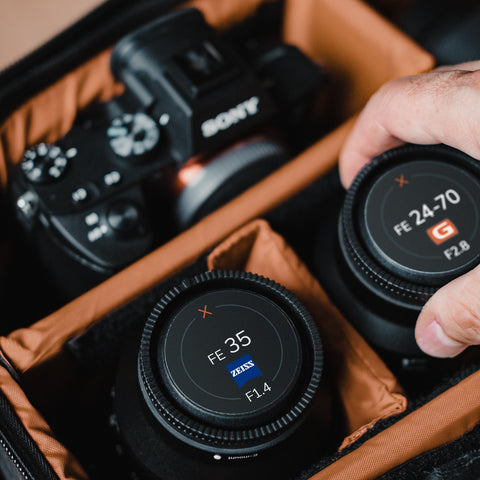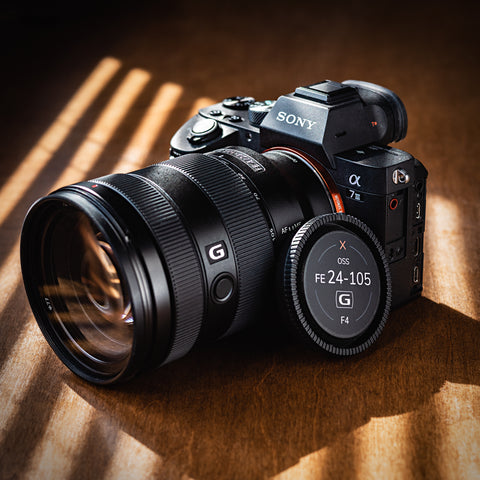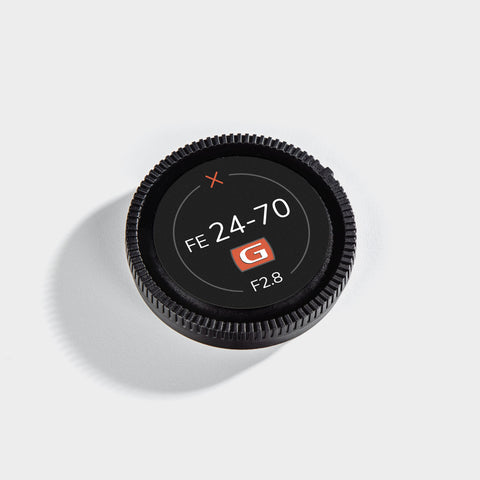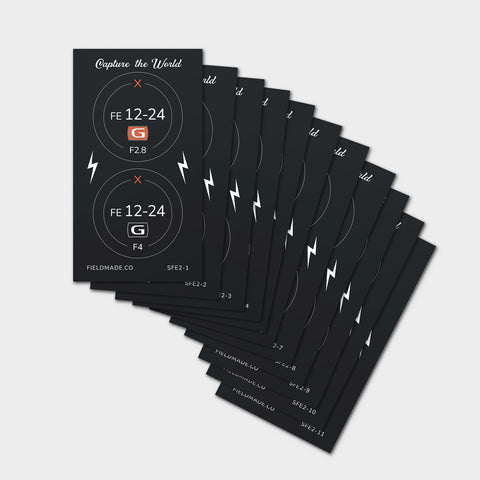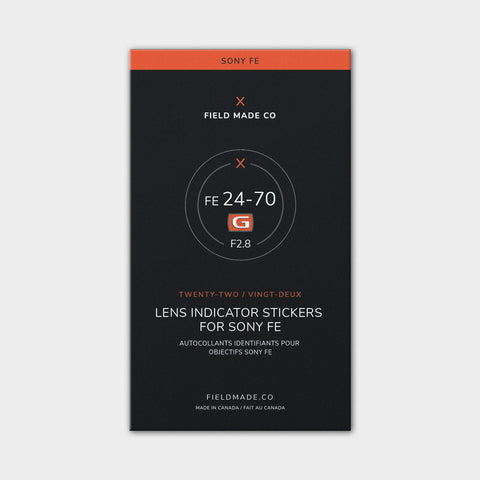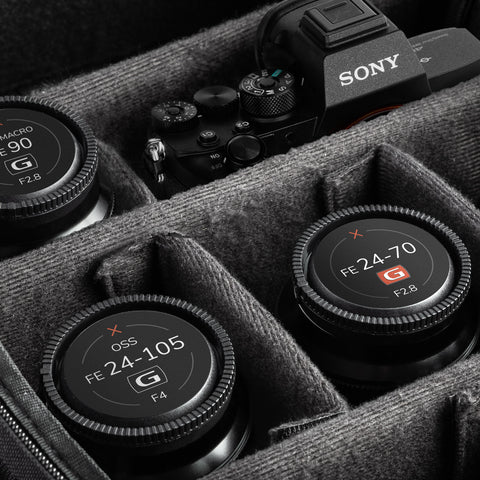 Clearance
Pro Indicator Sticker Pack for Sony FE Lens Caps
A curation of 22 indicators for the most popular lenses featuring the focal length, aperture & designations.
"I love these products. It is a must in my opinion for quickly grabbing the correct lens every time." - Micheal M.
Effortlessly locate the perfect lens in your bag with our premium mate vinyl identification labels. Designed by experienced photographers and filmmakers, these indicators ensure seamless shots and efficient gear management.
Crafted on Montreal's shores, our indicators are meticulously tailored for Sony FE rear lens caps, ensuring a precise fit that exudes professionalism. Elevate your gear organization, boost your professional image, and enhance collaboration with assistants.
FEATURES:
Features focal length, aperture & lens designation
Custom-made for 

Sony FE

 

rear lens caps
Made of durable scuff free mate vinyl from North America
Made in Quebec, Canada

This item ships in 1-3 business days.
*Lens cap not included.
© Field Made Co lens indicator designs are copyrighted
LABELS INCLUDED IN EACH PACK
BENEFITS
Never Miss the Perfect Shot Again
Say goodbye to fumbling and guesswork. With our Lens Indicator Labels, swiftly identify lenses and gear specifications for seamless transitions between shots. Keep your focus on the art of capturing moments, confident that you're always equipped with the right tools.
Elevate Your Professional Image
Impress clients and colleagues alike with your meticulous approach to your craft. The polished appearance of our labels showcases your attention to detail and dedication to your work.
Enhance Collaboration and Efficiency
Collaborative shoots require precision and coordination. Empower your assistants to find the right lens instantly, facilitating smooth and flawless shoots. By eliminating guesswork and minimizing delays, you'll ensure a harmonious and productive working environment.
SHIPPING
WHERE DO YOU SHIP?
We ship from Montreal, Canada to almost every country in the world and have customers in over 70 countries.
WHAT DOES SHIPPING COST?
We offer Free Shipping on orders over $50 CAD in Canada and 50$ USD in the USA. Shipping from 5$ in Canada and 6$ USD to USA. Worldwide shipping available. Shipping options are available at checkout.
Shipping is calculated at checkout based on location. Just add the items to your cart and select your country from the list to get a shipping price.
INTERNATIONAL DUTIES & TAXES
USA:
No customs or import fees (under $800)
EUROPE: 
VAT and import fees are NOT included in our prices – These fees will be payable upon reception of your package.
ALL OTHER COUNTRIES: 
Applicable customs or import fees are usually charged when the package arrives at the destination country. These fees must be paid by the recipient and are not reimbursable. We suggest you contact your local customs office for any information regarding fees before placing your order.
What Everybody's Saying
Real reviews from our customers

"Don't know why I didn't have anything like this sooner. Small cost to make your life just a wee bit easier but your gear look so much better."
Luke S.

"I'm a wilderness photographer, and for years fought the problem of finding a specific lense when I'm in a rush…Now I've found these!  Remarkable idea."
Duane S.

"Took no time and zero effort yet it looks amazing!"
Ryan M.

"The stickers make it much easier to grab the right lens from the bag as well as help to keep track of gear while out at events."
Rob S.
Complete Your Indicator Set
Save 15% by adding 5-9 labels, or 20% for 10 or more. Select individual indicators from the dropdown menu and add them to your cart to create a bundle.

"There's practical value for Field Made Co.'s indicator labels, it doesn't hurt that the labels are aesthetically pleasing."

"Useful as well as visually impressive and professional."

"Field Made has come to the rescue, bringing some order and swagger to your kitbag with stylish lens and camera body indicators."
Great Product!!
Field Made Co's lens sticks are a great product. They are very well made, apply easily, stay secure, and allow you to identify your lenses quickly. My camera equipment is much more organized with these stickers.
Outstanding Product !!
These stickers are perfectly crafted and they look fantastic on my Nikon Z lenses. It is rare to find a product that is perfect these days - this is one - they are perfect.
- Bruce
Pro Lens Indicator Sticker for Nikon FX - Single
Love these stickers
Great quality easy to install. No more searching for the right lens. Ease to find the lens I need in my back. 5 ⭐️
Maniac!
Top quality product, top quality materials, top quality service and communication.
Stickers, packaging, all the details and even the handwritten message inside.. oh guys, you know exactly how to satisfy customers and let people fall in love with your products.
Definitely one of the best purchase ever.
Excellent!
Good product. All lenses should come with these.
Fantastic product
Love these Lens cap stickers. Helps with organisation and maybe more important they just look awesome! Great service from the guys at fieldmade co. With a hand written note with every order and super nice packaging. Great stuff keep it up! Need to buy more gear now so I have an excuse to order more.
Love these!
The camera and lens identifier stickers have been a great addition and even help when it comes to labeling everything in my camera bag. Not only is the design a nice touch, but I can now find which lens I need faster with the rest.