Lens and Camera Indicators
Find The Right Lens In An Instant - So You Don't Miss A Moment.
Save time finding the right lens, give your gear bag a polished look, and help your team quickly find the right equipment.
Join Thousands of Photographers and Filmmakers Using Field Made Co Indicators
Select your camera brand below to find your indicators.
Customer Reviews
What Everybody's Saying About Our Indicators

"I must admit, I never thought I would need the cap stickers! They have proven to be a very worthwhile, inexpensive investment."
Cynthia S.

"The quality is amazing and I loved the handwritten note! Can't wait to see what else you guys put out!"
Brett C.

"Took no time and zero effort yet it looks amazing!"
Ryan M.

"Don't know why I didn't have anything like this sooner. Small cost to make your life just a wee bit easier but your gear look so much better."
Luke S.

"To those people who think they're a waste of money and say a piece of tape and permanent marker is all you need- that's cool. I just happen to like my gear looking a little more professional and well cared for than using gaffer tape.
Crosby T.

"The stickers make it much easier to grab the right lens from the bag as well as help to keep track of gear while out at events."
Rob S.

"These stickers are perfectly crafted and they look fantastic on my Nikon Z lenses. It is rare to find a product that is perfect these days - this is one - they are perfect."
Robert D.

"I'm a wilderness photographer, and for years fought the problem of finding a specific lense when I'm in a rush…Now I've found these!  Remarkable idea."
Duane S.
Introducing Field Made Co's
Next-Generation Lens Indicator Labels
Our Next-Generation Camera Indicator Labels are here. Handcrafted in-house with top-quality North American materials, these labels now come with Front Cap Indicators and include filter size details. Elevate your photography and filmmaking experience today.
Organize Your Gear with Precision
Discover Trending Items from Field Made Co
Featured Products
Accessories to Organize Your Shoots and Ideas.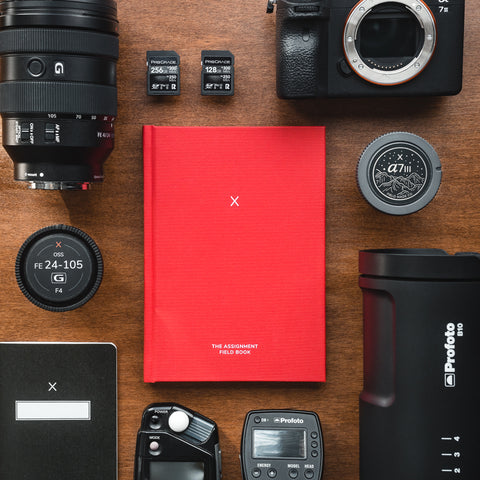 The Assignment Field Book
Keep All Your Shoot & Lighting Set-ups in One Place
We totally get the struggle of setting up lighting just right, or having to recreate a specific setup for repeat clients. That's why we created the Assignment Field Book. It's like your own personal vault for all those setup details that you can refer back to whenever you need.⁠
Field Made Co
Field Made was born from our love of photography and filmmaking, the deep absorption and consideration for the process of capturing images. But above all, for the love and gratification of creating beautiful and useful things to enhance the image making experience.